Magnetic Money Desktop International: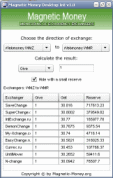 Magnetic Money Desktop Int is monitoring of exchangers of electronic currencies. Simple tool for the quick search for the most favorable exchange rates and exchangers of electronic currencies, such as: PayPal, Perfect Money, Payza, WebMoney, Solid Trust Pay and other electronic currencies.
Magnetic Money Desktop Int is a perfect solution for people, who appreciate their time. This software product is realized on Flash- technology, that's why it works faster than its analogues. This software product doesn't need the installation and a Flash - player but the connection with the Internet is necessary for it.
The monitoring work is restored
14.07.2018
After the accident in the data center, the site has been completely restored.
New site language versions
25.03.2018
Added Vietnamese, Korean and Japanese versions of the site. P.S. If you find a grammatical mistake, please tell us about it.