Magnetic Money Desktop International: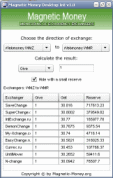 Magnetic Money Desktop Int is monitoring of exchangers of electronic currencies. Simple tool for the quick search for the most favorable exchange rates and exchangers of electronic currencies, such as: PayPal, Perfect Money, Payza, WebMoney, Solid Trust Pay and other electronic currencies.
Magnetic Money Desktop Int is a perfect solution for people, who appreciate their time. This software product is realized on Flash- technology, that's why it works faster than its analogues. This software product doesn't need the installation and a Flash - player but the connection with the Internet is necessary for it.
New site language versions
25.03.2018
Added Vietnamese, Korean and Japanese versions of the site. P.S. If you find a grammatical mistake, please tell us about it.
Happy Holidays!
24.12.2017
We at Magnetic Money wish you a Merry Christmas and a Happy New Year. Let all your projects in 2018 be successful.