Magnetic Money Desktop International: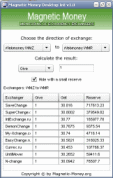 Magnetic Money Desktop Int is monitoring of exchangers of electronic currencies. Simple tool for the quick search for the most favorable exchange rates and exchangers of electronic currencies, such as: PayPal, Perfect Money, Payza, WebMoney, Solid Trust Pay and other electronic currencies.
Magnetic Money Desktop Int is a perfect solution for people, who appreciate their time. This software product is realized on Flash- technology, that's why it works faster than its analogues. This software product doesn't need the installation and a Flash - player but the connection with the Internet is necessary for it.
We have turned 8
17.11.2016
Today is Magnetic Money's 8-th birthday! Thank you for preferring us for all these years!
Service updates
28.03.2016
Dear friends, we have added a new exchange destinations and exchangers! Also, running Chinese, French, German, Spanish and Portuguese language versions!